Road Grooving Machine is used to widen crack before amending seam in asphalt surface;
Road Blower is used to clean cement and asphalt road surface;
Road Crack Sealing Machine is used to sealing concrete and asphalt road crack.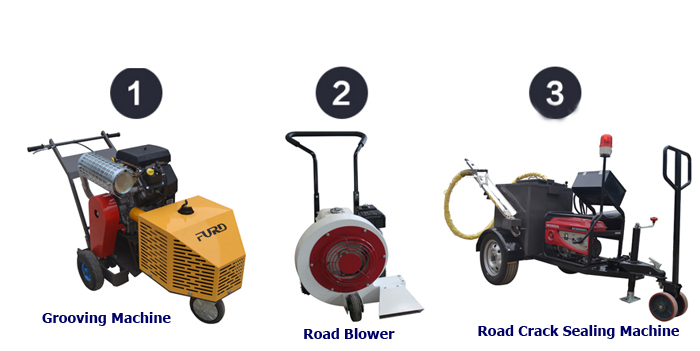 Road Grooving Machine Features:
1. Light weight small slot machine volume, easy to operate, comes with power, field construction do not have to worry about external power supply.
2. Grooving mechine can easily, accurately and quickly in asphalt and concrete pavement width opened 1-5 cm, 0-5 cm depth of slot.
3. Grooving mechine is mainly used for asphalt pavement, concrete pavement, a large area of the venue slotted work surface cracks.

Road Blower Features:
1. HONDA engine, excellent performance, easy to start-up;
2. Unique designed centrifugal blade wheel, huge wind volume, high wind pressure.
3. Air course can be adjusted, easy to operate;
4. Plastic treated, anti-rust, anti-corrosion and beautiful.
Road Crack Sealing Machine Features:
1) Use imported diesel burner, good performance; asphalt crack melter
2) Constant temperature control, material output and input all by constant temperature control;
3) The material output speed is adjustable;
4) Adopts Honda generator, famous brand, high quality.
FURD factory also produce the below machines:
Vibratory Road Roller Laser Screed, Power Trowel, Light Tower, Road Marking Machine.
For more information of our products, please feel free contact with us, we are at your service for 24 hours.